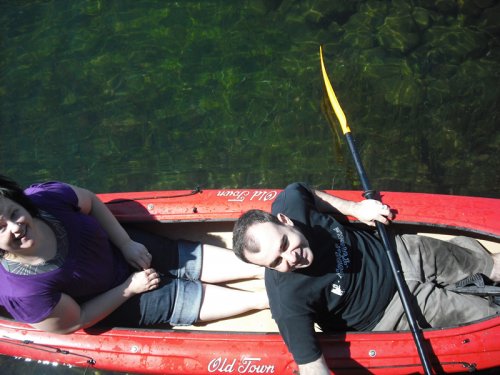 My hubs and I met 8 years ago (!!!) at a mutual friend's birthday party. He had just split with the (thin and gorgeous!) girl he had been living with for years. She also happened to be the girl he had a crush on all through high school (she was "the ONLY punk girl in my school"). We went on 3 dates and I dumped him to go out with someone else. He decided to try working things out with his ex, and during that period we remained friends and he confessed that he had never pictured himself spending the rest of his life with anyone but her.
Within a few weeks, I realized I had made the wrong choice, and set about winning him back. It took almost two months, the fatty prevailed in the end, and he and I have been inseparable ever since. We're celebrating our 5th anniversary this October.
We've been told by our friends and family that we're "perfect examples of true love," "proof that marriages still work," and my favorite, "a shining example of how a relationship SHOULD work." I love our marriage - it is AWESOME and no one should settle for anything less.
---