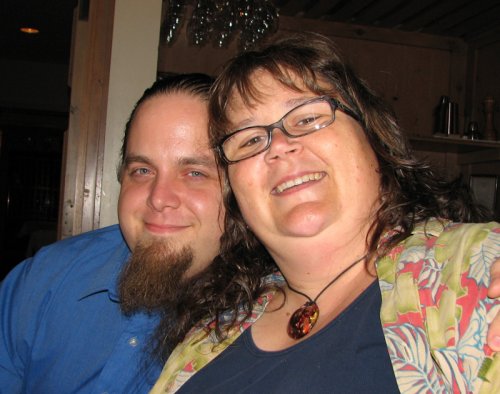 It's funny that I saw your request today, because exactly ten years ago, we first became a couple. Before that, we'd been juggling partners and roadtrip buddies, and he'd held my hand through my divorce from my previous partner of 16 years. Bill's been a fabulous stepdad to my first three kids, and five years ago we welcomed our own little guy into the family.
We've moved six times in the last five years (California, Missouri, and Illinois), and now we've settled down in the Chicago area. He's a professor of genetics at DePaul University. I'm an at-home mom of two homeschoolers, a part-time hair-braider and a freelance editor/journalist.
One way he de-stresses from his job is by baking pastry. As I was tasting yet another fantastic chocolate croissant, I said "It's a good thing you don't mind having a 300-lb. wife." His gallant answer: "This is how you get... no... this is how you EARN a 300-lb. wife!"
He's still my favorite passing partner and navigator, and I'm looking forward to many more happy years with him!
---