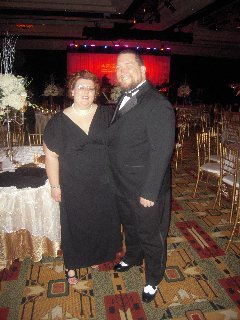 Dale and I are fat, happy and married.
We met in 1996 and were friends first. First time I met him he was sitting in a dorm room playing Dennis Leary's Asshole on his guitar. &bsp;knew he was a guy I wanted to get to know better. Almost a year later, there was a steadily growing tension between us when finally one of our friends pulled us aside (separately) and told us "just do it already". &bsp; So he finally took the queue and kissed me. &bsp;We've been inseparable ever since. &bsp;Now it's 12 years later, 5 of that married, and our relationship stronger than ever. &bsp;We laugh alot and I love every minute I have with him.
The picture is us at a fundraiser ball for the Arizona Opera. &bsp;Our first black-tie formal event, and it was like going to the prom. I was extremely underdressed (...it was really fancy..), but we sure had a good time.
---