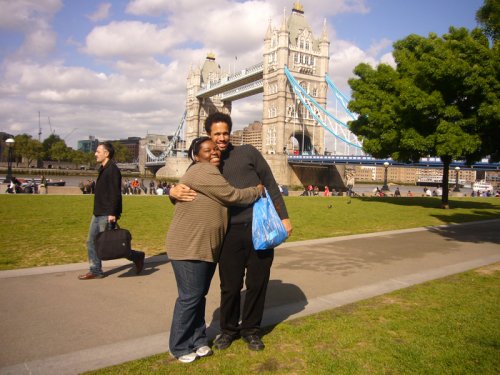 We met not quite a year ago, on CrazyBlindDate.com of all places. I was 1 day into a new job and was just getting over a crap boyfriend. I thought to myself &dquo;he sounds like an interesting person. At least I&squo;ll get a free drink out of it.&dquo;
To my surprise he was really really good looking with similar tastes in music & art (we bonded over Magritte & Seurat) and he only lived about 30 blocks from me. I was charmed. We made plans for a second date...and a third...and a fourth. Which took us into Christmas time. I didn&squo;t go home for Christmas last year. He was the person I spent my Boxing Day with.
Winter became spring, and with it came the traveling: Jamaica, where he introduced me to the best food on the planet. He turned 30. We celebrated with rum-soaked fruity things and karaoke in Montego Bay; London and my 30th ‐ a stranger took pity on us and snapped that photo right off of Tower Bridge. Then came Paris, his special treat to me &dquo;just because&dquo;. And then Scotland, to meet the rest of his family.
We&squo;ve both gained a bit of weight since we became an item. To me, his little belly signifies the storage of happiness ‐ the tossing of cares into the wind and doing what makes you feel good. He likes the bits of extra fatness that settled around my butt. To him lingerie never looked so good.
I have never been a thin woman. Will never be one. Doesn&squo;t run in my genes. It doesn&squo;t bother him, never has.
---